University Ministry Associate, Concordia University, St. Paul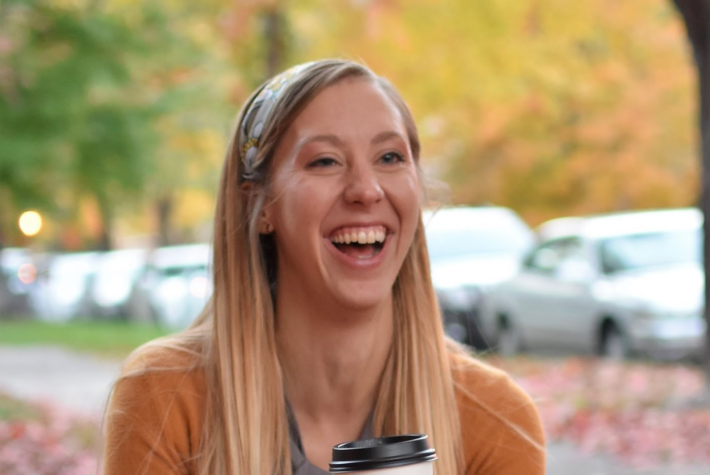 "Finishing the MFA program was much more of the beginning of the story than the end and I'm much more equipped for the journey ahead for having spent two years learning the skills of writing development."
Not only is Shelly Schwalm a Concordia University, St. Paul grad, but she serves as University Ministry Associate as a part of the CSP Ministry team where she works directly with student discipleship and leadership, spiritual care, and contributes to chapel coordination and leadership. In 2017, she returned to the [online] classroom to pursue the MFA in Creative Writing and completed the program in August of 2019. As she prepares to walk across the stage in May, she shared why she wanted to dive into the writing world through her MFA and the kinds of stories she wants to share.
Q: What was your biggest motivation for pursuing your MFA?
A: I wanted to continue my education and get my master's degree. When I saw an ad about the MFA program, I wondered if it would be a fit since I don't really write fiction, but non-fiction and spiritual reflection. Professor Ryan assured me that it would be a helpful program to grow my skills in writing and I decided to give it a shot. I have learned so much about writing, literature, and myself, and have begun to take myself seriously as a writer beyond it just being a hobby or something that is solely a tool for research or academic writing. Creative writing is valid and important in the world and my journey in this program, I believe, will help me better communicate going forward as I share the most compelling truth and story there is: that of Jesus.
Q: Tell us a bit about your writing! What do you like to write? How would you describe your writing style and process upon entering the program?
A: I write non-fiction, but I have dabbled in poetry as well. I write whatever is stirring in me; whatever idea won't let me rest or is working itself out in me. I write a lot about what I see and experience and what I believe God is teaching me and speaking in the midst of those experiences. When I came into the program, my writing was pretty haphazard in where, when, and how often I wrote, but also I expected my first draft to be the only draft. It's just unrealistic and held my writing captive. It's hard to let go and get caught up in something full of life and momentum when you're also editing along the way. The MFA program has invited me to a longer process that holds parts that add some more pain before there's product, but it's set me free to toss things on a page without crippling restraints.
Q: What aspect of the MFA program has impacted you the most as a writer? 
A: The program has given me a huge gift of feedback. There are few places in life where we submit ourselves willingly to receive bettering criticism. The lot of us are terrified and unfamiliar with how to give ear to critique. I was no different two years ago. My first workshop felt painful in getting accustomed to others voicing my literary shortcoming and I hated doing it for others. It got easier, though. As we continued the journey together, watching one another grow in crafting words, I trusted that these people were for me and with me and their feedback wasn't competitive or belittling, but a loving correction that would make my writing undeniably clearer, more engaging and lovely, and ultimately more impactful. This is what we all grew to want for each other — cheering one another on in post after post.
Q: If you could give advice to anyone considering Concordia's MFA program, what would you tell them? What can they expect? 
A: Create your own system/rhythm/schedule. You'll need it because it's all on you to be on top of your deadlines and ask the questions you need to be answered. The seven-week courses are a hustle, so to have some sort of rhythm so you don't get behind is important. Also, looking ahead to see where large assignments land or where you might have scheduling conflicts that need accommodating is wise.
Participating in discussion boards (which means you've read and processed enough to do so) is where so much of the gold in this program is found. We learn better together. Especially in the heavy reading classes, Audible was a blessing to me. I love reading, but I'm a slow reader. I wasn't sure how I was going to get through two years of incredible amounts of reading. Audible in my ears while I had my book open helped set a pace for me and I could even speed it up after a while. I'm not sure I would've made it through the novel and non-fiction classes so well without it.
Work to connect with your cohort. These are the people that are cheering you on — that you need to trust to learn from and vice versa. The stronger the bond, not only the better relationships but the greater benefit to everyone's writing.
Q: Is there anything else you'd like to share with us at this time? 
A: I know I'm done with the program, but I feel like it's just the beginning. I'm working on getting my manuscript ready to submit to publishers and/or agents. I'm still learning my own personal writing practice (the where and when). I'm still learning how to read other authors and glean from them. Finishing the program was much more of the beginning of the story than the end and I'm much more equipped for the journey ahead for having spent two years learning the skills of writing development.